Samsung NZ84T9747VK Infinite 83cm Combi Venting Hob with Dual Flex Zones in Black
Product Code: NZ84T9747VK

Get everything you need in one hob with this stunning Infinite 83cm combi venting induction hob from Samsung. Boasting 4 induction zones which are Dual Flex for larger pans, touch slide controls, 9 power levels plus boost and auto pan detection you can cook up a storm with real ease. Quickly refresh the air and wave goodbye to lingering smells and unwanted steam thanks to the powerful ventilation of the integrated extractor hood in the middle of the hob. With 9 extraction speeds plus intensive, vapours will be whipped away at lightening speed! Finished in stunning black glass and with an A+ energy rating this hob will look fantastic amongst any modern kitchen.
Description

Specification

Delivery & Returns
All you need integrated into one cooktop
Hood Integrated Induction
Install your cooktop anywhere and rapidly refresh the air. An integrated hood in the center of the cooktop captures odors and vapors in a flash with a powerful 620m²/h ventilation speed. And, with no separate hood, you can install the cooktop wherever you want, like on an island table.
Fits in seamlessly with your kitchen
Flushed Fit Design
Create a seamless and premium looking kitchen interior. The cooktop's minimalist Flushed Fit design has a clean and stylish appearance. It fits perfectly with the surface of your existing cabinetry to create a fully integrated look. And it's also simple to maintain with easy access from below*.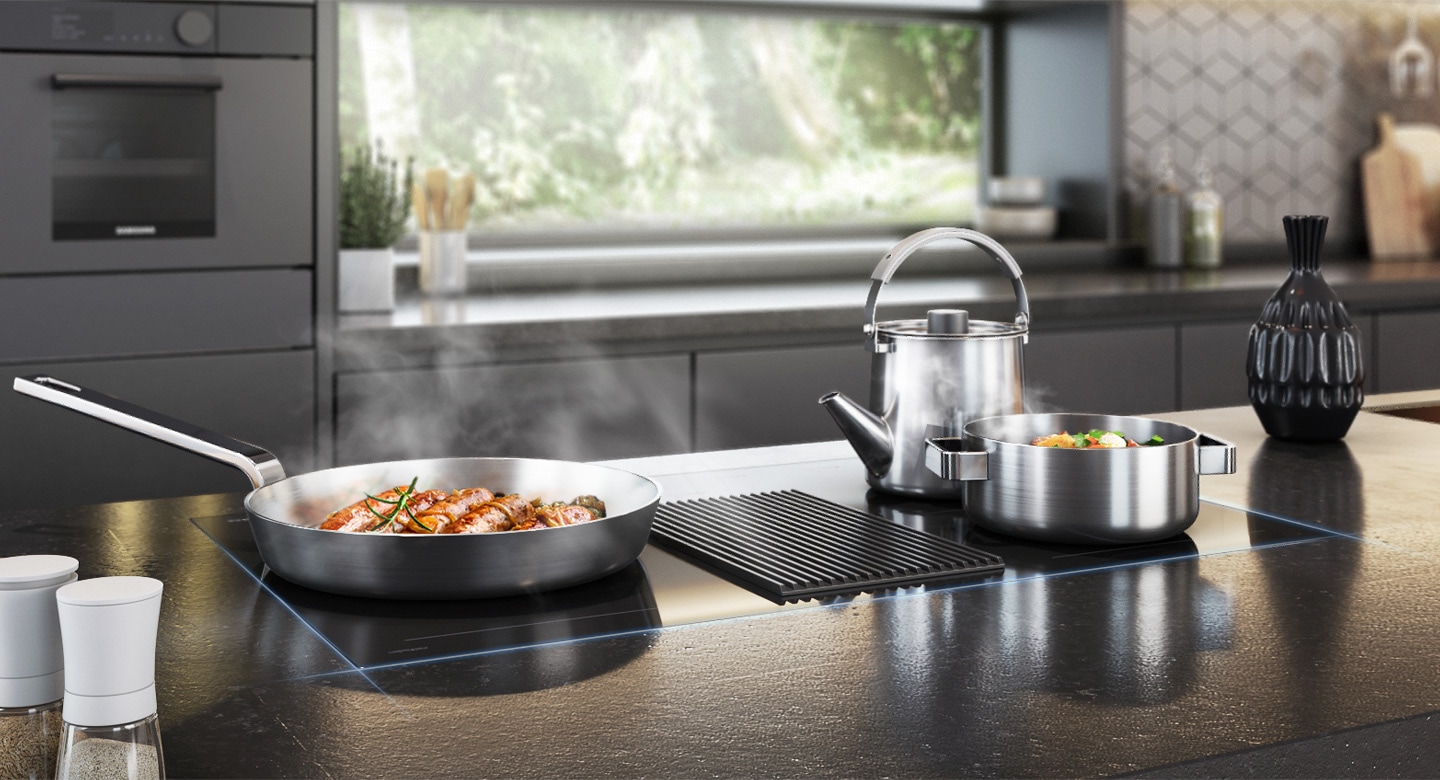 More flexibility,more cookware choice
Dual Flex Zone
Cook many different dishes at once on the Dual Flex Zone. It has two wide, open areas that give you much greater flexibility to use various types of cookware, including large and long dishes.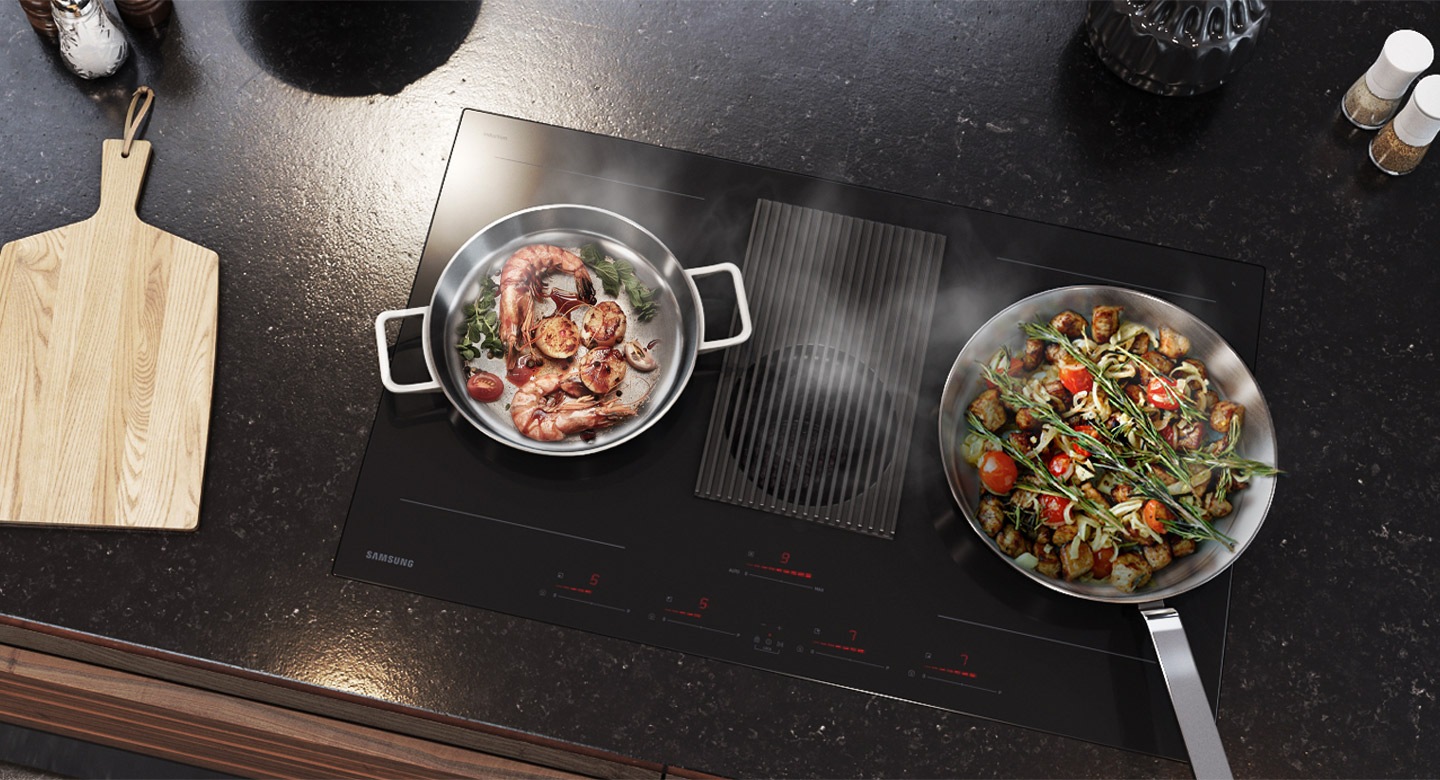 Rapidly remove odors & refresh the air
High Suction Power (620m²/h)
Enjoy a comfortable and healthy cooking environment with powerful ventilation. The integrated hood eliminates odors and refreshes the kitchen air in a flash with an incredible suction power of 620m²/h. And you don't need to find extra room for a separate hood, so it is very space efficient.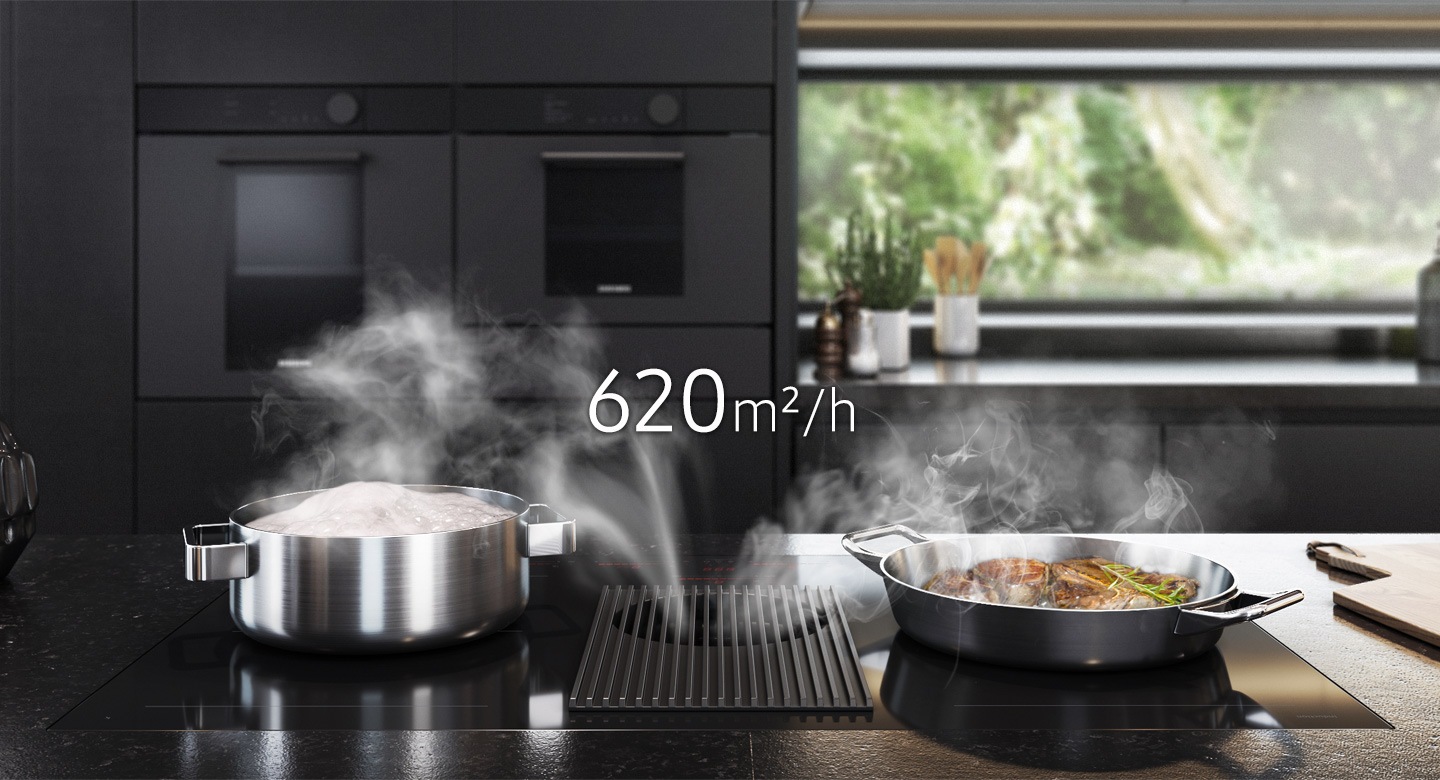 Banish cooking odors
Removable Ceramic Odor Filter
Prevent unpleasant odors from lingering in the kitchen. A Removable Ceramic Odor Filter removes strong cooking smells, so you can enjoy a fresher home. It's also easy to keep clean as it is made of ceramic. Simply detach and heat it in an oven to maintain the optimum deodorizing performance.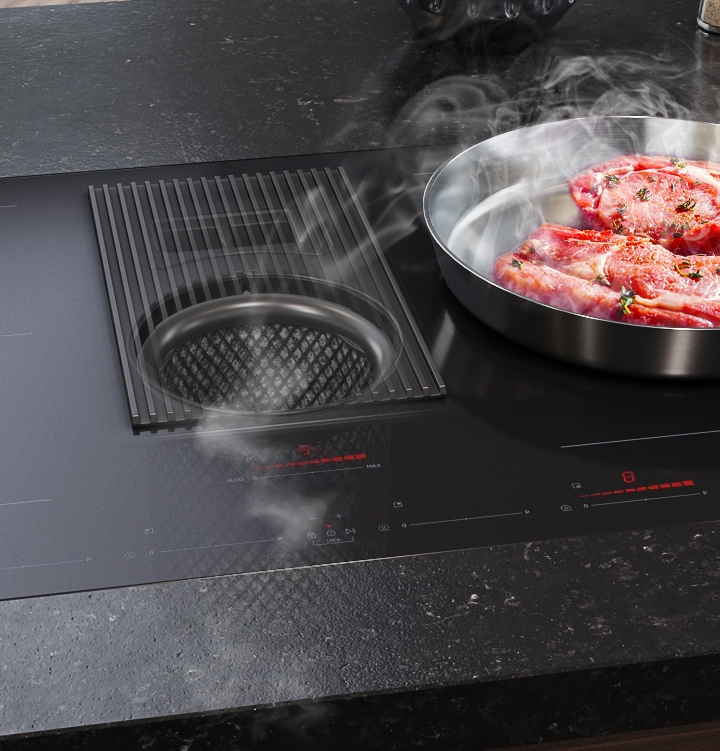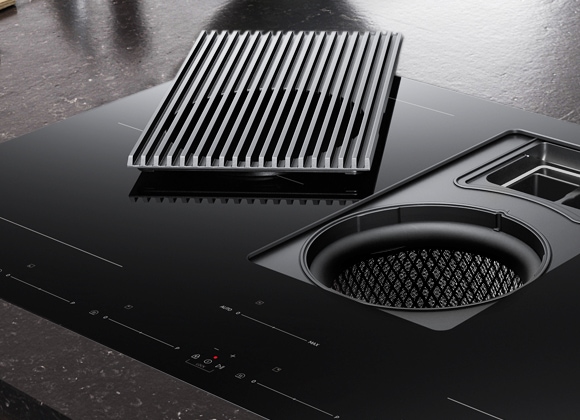 Easy Clean Aluminium Grease Filter
Keep the grease filter and inside of the hood really clean. An Easy Clean Aluminum Grease Filter traps airborne oil to keep the air much cleaner. Any liquid is caught in a pan so that it can be drained away easily. And the filter can be quickly removed and washed to ensure optimum performance.
Keep your cooktop looking its very best. A Dishwashable Hood Cover made of stylish aluminum completes the premium design of a cooktop. It is also detachable and washable, so it's easy to keep clean simply using a dishwasher.
4 induction zones
Touch slide controls
Red LED display
9 power levels plus boost
Auto pan detection
Child safety lock
Touch control hood
645m3/h suction power with boost
9 extraction speeds plus intensive
A+ energy rating
830 x 211 x 515mm
Cut out 807 x 492mm
Delivery Service
Delivery Available UK Wide*
*There are a few areas where we currently do not deliver, see below for details.
Personal Delivery Service
We'll call you once your order is placed to organise a suitable delivery & discuss any requirements.
Dedicated 2-Man Delivery Service
We use our own delivery team, so your goods arrive in perfect condition.
No Need To Wait At Home
We'll contact you when we're on our way. No need to wait in for your delivery.
---

Once you've placed your order, we'll be in touch within 4 hours* to organise a suitable delivery date – a personal touch for your convenience.
All orders are £19.95 standard charge (please see exceptions below).
We personally deliver your order and take extra care with our dedicated 2-man delivery team to ensure your items arrive in perfect condition.
If we need to use a third party for delivery, we'll let you know – we only use approved Appliance People delivery services.
We will contact you when we're one hour away on the agreed date of delivery.
Please read full detail below covering large items, American Refrigeration & any delivery restrictions.
30-day returns on all standard items.

*4 hours within our normal working hours Monday – Saturday 9am til 6pm.
Delivery Service
Appliance people aim to provide a 2 man delivery service for the majority of the orders received, however, some areas of the country may not be covered by this service, in which case, we would arrange delivery with one of our logistical partners to ensure your goods arrive in perfect condition and in a timely manner.

Smaller items such as sinks, taps, cooker hoods, and hobs can be delivered through a parcel carrier normally within a few days and these orders can be tracked through their online portal, minimising disruption to your normal working day.

If the delivery is being fulfilled by our own team, we will deliver the products to a room of your choice on the ground floor and inspect the goods before leaving the property. Very large products such as range cookers and American styled refrigeration may struggle to fit through narrow doorways or apertures, so they may be left in a secure area such as a garage. Our team can arrange a pre-call to suit your needs and will endeavour to deliver a seamless service.
Standard Delivery Rates
Standard Delivery is available on all orders to areas not specified in our delivery exclusions or additional charge delivery sections.
Standard delivery rate is £19.95 on all orders.
Additional Charge Delivery
Additional Charge Delivery is for orders being delivered to postcodes outside of our Standard Delivery zones. The cost of delivery to these postcodes is £34.95. The list below contains the prefix of the postcodes that will incur this additional charge
AB, CA, CF, CT, DD, DG, DT, EH, EX, FK, G, HR, IV, KA, KW, KY, LD, LL, ML, NP, PA, PH, PL, PO, SA, SY, TA, TD, TQ, TR
Delivery Exclusions
We do not deliver to the following postcode prefixes currently:
BT, IM, HS, ZE, GY, JE
Palletised Delivery
Deliveries to areas that are not covered by our 2 man delivery service will be handled by a special palletised network who have many years of experience of handling appliances and they will arrange a suitable delivery date to meet your needs.
The palletised delivery service is a curb side drop off service only, and the goods are not taken into the property due to insurance purposes and health & safety regulations.

---
Returns
We understand that for whatever reason you may wish to return your item. That's why we offer a 30-day returns window, after the day you receive your goods. If you wish to return a good, you must retain possession of them and take good care of the products until they are safely returned to us. The items must be in perfect condition, with original packaging and un-used to ensure a full refund can be issued.

We're only able to collect the items from the address where they were delivered. But you can return the items at your own cost within 30 days and we'll reimburse you by the original payment method. Please get in touch with us to discuss a return